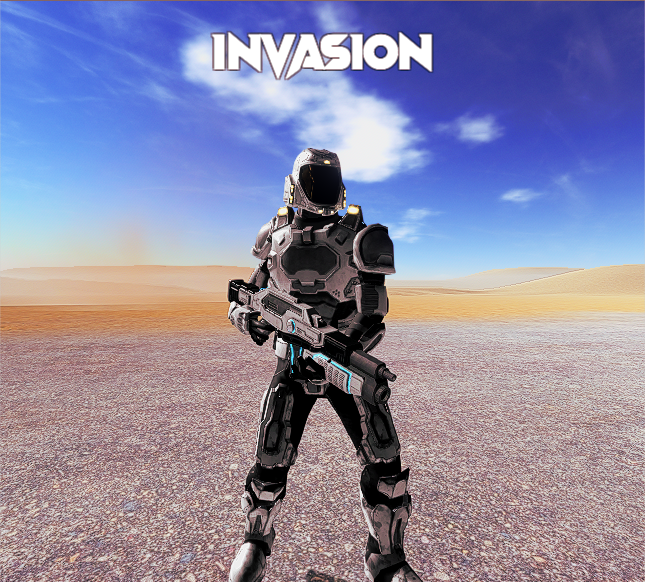 Invasion Multiplayer
A downloadable game for Windows, macOS, and Linux
We are very proud to announce our Invasion multiplayer videogame. Invasion is free to play. Do you want to play alone or with 100 others human players ?. Or Do you want play against human players and bots ?. No problem. Enjoy of epic battles and protect every one of the cities with your friends, working in team or fighting alone against the invasors, and if you are brave enough and you fulfill the mission you will appear in the leader board on internet.
Invasion is a very fast action 3d video game that will make you feel in the body of a futuristic soldier, your misssion will be fight against your enemies, for that you have very powerful weapons, like the pistol, the sniper, the rocket launcher, but be careful, because your enemies have very powerful weapons too, and they will chase you without compassion. are you prepared for this challenge?
There be a while since we update the page. Now we want to give you a good new to you. We have decided to allow the free access to the third level, to anyone that want it. The third level is the biggest level at the present on our project and it has some characters not appearing on previous levels. There is only one requisite to get access to this amazing level: Give us a good rating, and send us an email with your itchio´s user name (so we wil be able to check your rating), and, in the same email, give us your user name on Invasion (so we will be able to give you access to the third level). That's all.
So, now you know it. Play completely for free, alone, or with your friends the amazing third level.
Remember : you must send the message to
magictechstudiovideogames@gmail.com

with the required data, and with the subject: I want access to third level.
You can download the game from here too:
https://magictech-studio.webnode.com/invasion-multiplayer/
Enjoy and we invite you to visit our website, there you will find more info about the game, a how to's page and a forum. If you have some question, suggestion or simply you want to greet us, you are welcome.
Best Regards.

Install instructions
The installer will create an icon on your desktop when finished.
Comments
Log in with itch.io to leave a comment.
This game is not compatible with Mac or Linux.
Wow, this is a really amazing game. i played this game with my friends online and is full of action, you must be very alert or you will be defeated by the enemies, is very entertaining, and the levels are very very big. the graphics are very good. i will wait to see more levels. congrats and very good work. how many users can play concurrently ?
Thanks for your comment. We are very happy, and we are working to add more levels, enemies, and many many others surprises, so keep an eye on the game, and dont forget to invite to your friends to play it online. The max users that can play concurrently are 200. But for that you will have to have a good internet connection. Have a nice day and if you have any question only tell us. :)
how to fuck should I install that on mac ??
Anderla. The version on itchio is only for pc, but we have the mac version here. There you will find the Mac version. and Dont hesitate to tell us if you have some question. :)
I was playing this game and the truth is very good. Congratulations I love it, It has a lot of action and I have enjoyed playing with my friends. I look forward to seeing more levels. :)